Despite the state of Ohio removing the dangerous dog definition for so-called "pit bulls" last year, some municipalities are slow to follow suit, choosing instead to continue with their archaic and arbitrary breed-specific ordinances.   Swanton, Ohio, is one such slow-moving municipality that, according to The Toledo Blade, has "decided not to change language that considers all 'pit bull'-type dogs to be inherently vicious."   According to Swanton Administrator Jon Gochenour,
The Village of Swanton has conducted a legal review of our existing dog regulations, and this research has indicated these ordinances are legal and constitutional in the state of Ohio, said Swanton Administrator Jon Gochenour. As a result, the village of Swanton will continue to enforce all of our existing regulations in regard to dogs.
So one search on Lexis Nexis and Swanton is convinced breed-specific legislation is constitutional?   I suppose they based this solely on the Ohio Supreme Court's decision in The City of Toledo v. Tellings.   Forget that there were reports of evidence tampering at trial leading some, myself included, to conclude the decision was made by a kangaroo court!  
Indeed, it's interesting that in the few instances lately when breed-specific legislation (BSL) has supposedly been upheld as constitutional, it has been done so under rather shady circumstances.   So let's be clear: BSL has been ruled unconstitutional when the challenge is argued properly — that is, when the challenge is argued in a court of law that isn't dirty or with evidence that hasn't gone missing or in some other way hasn't been tampered with.   But I guess you'd have to look beyond just merely Toledo to find other places where BSL has indeed been found to be unconstitutionally vague or an unconstitutional violation of due process.  
For instance, in Denver under the 2004 case of Margolius v. The City of Denver, it was shown that Mr. Margolius' due process rights were violated when Denvers own Animal Control Officers could not discern what was and was not a "pit bull" as defined by their own ordinance.   Denver violated dog owners' due process rights again when the Denver Daily News reported that in January 2011 (and in 2009) Denver's Animal Control officers could not tell the difference between a Boxer mix and what Denver's ordinance defined as a "pit bull."   The findings in these cases are a wake-up call for those who claim that Denver's "pit bull" ban has been successful.
Swanton itself appears to not be immune to bad breed determinations since, as The Toledo Blade pointed out, Swanton's dog warden recently determined a dog named "Bailey" to be a "Brazilian mastiff mix, also known as a Fila Brasileiro," which was considered by Swanton's dog warden to be a "'pit bull'-type dog."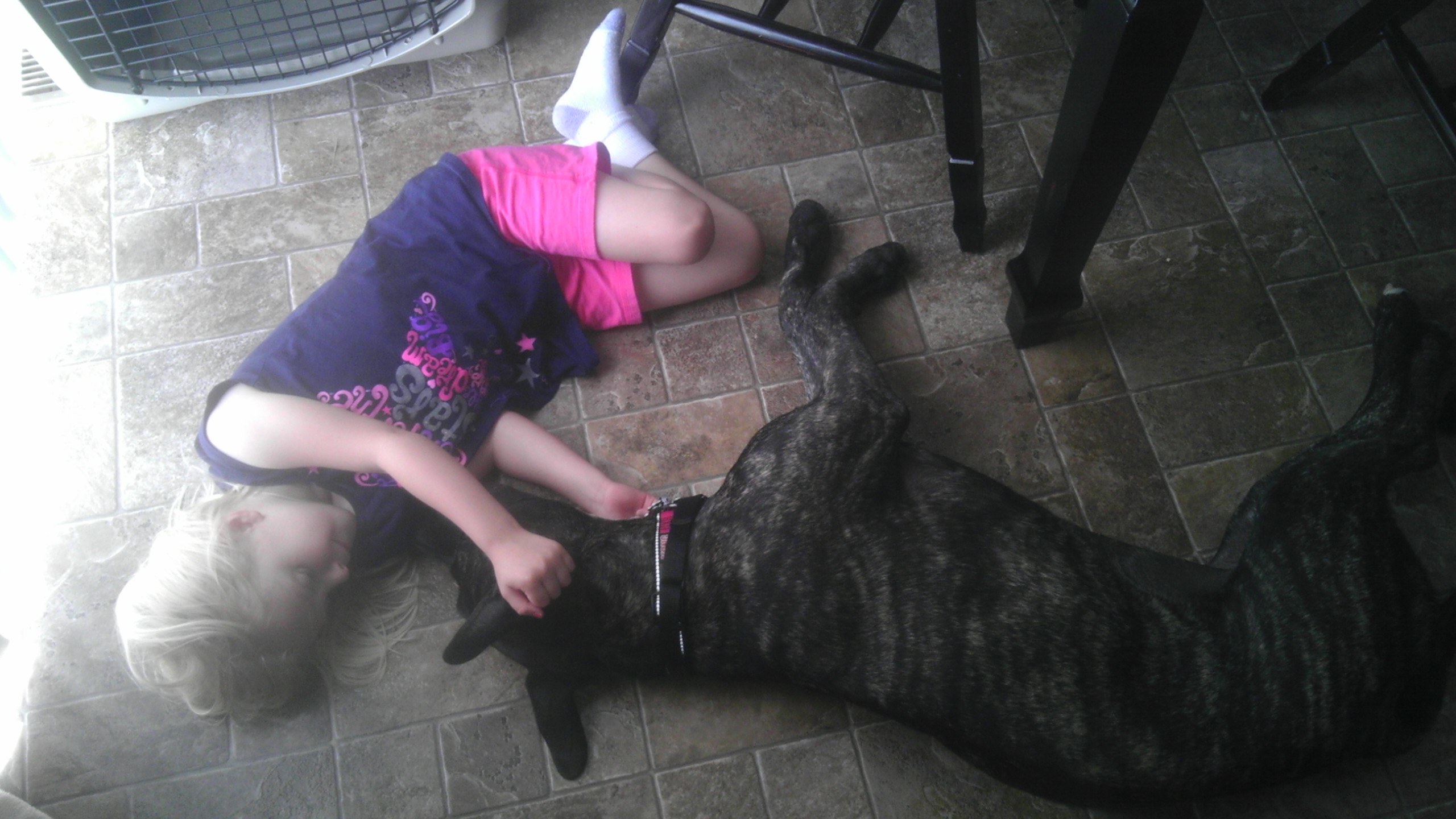 [Bailey, the "mastiff," with her kid Kayla]
So mastiffs are "pit bulls" now too?   Mastiffs which have 50-60 pounds on American Pit Bull Terriers are now considered "pit bulls," and Swanton sees no problem with this?   Really?   So do you see what we mean when we say that any medium- or large-breed dog can be called a "pit bull," which is why statistics on "pit bulls" are wildly skewed and therefore worthless?
Incidentally, Swanton's dog warden was wrong in his Fila Brasileiro breed determination (and this is frequently the case as Animal Control Officers are notoriously unskilled in making mere eyeball breed determinations).   The Toledo Blade article continued:
A DNA test commissioned by The Blade of Bailey shows she is actually a mix of American bulldog, Rottweiler, American Staffordshire terrier, black and tan coonhound, Coton de Tulear, bull terrier, Neapolitan mastiff, and miniature pinscher. She is less than 50 percent pit bull, which is the standard that past Ohio court cases have used in determining whether a dog is a pit bull-type.

An Ohio dog advocacy group is challenging the villages dog ordinance, saying it is vague and puts an undue burden on its dog-owning residents.

The Ohio Coalition of Dog Advocates has started a petition drive at http://tol.bz/191a2qY  to urge the village to revise its dog laws. It has more than 775 signatures.
Saying Swanton's breed-specific ordinance is vague would be a huge understatement.   But since the incident with Bailey illustrates that dog wardens, ACOs, etc. are bad at breed determinations, why persist with archaic legislation when it has been proven time and again that municipalities (including Denver which astoundingly claims to be a BSL success story!) cannot even determine what is and is not a "pit bull" as defined by their own ordinances?
[google-map-v3 width="350″ height="350″ zoom="12″ maptype="roadmap" mapalign="center" directionhint="false" language="default" poweredby="false" maptypecontrol="true" pancontrol="true" zoomcontrol="true" scalecontrol="true" streetviewcontrol="true" scrollwheelcontrol="false" draggable="true" tiltfourtyfive="false" addmarkermashupbubble="false" addmarkermashupbubble="false" addmarkerlist="Swanton, Ohio{}4-default.png{}Swanton, Ohio Refuses to Repeal Breed-Specific Ordinance Despite Ohio Having Repealed ˜Dangerous Dog Definition for Pit Bulls" bubbleautopan="true" showbike="false" showtraffic="false" showpanoramio="false"]