When last we heard from Watertown, Wisconsin, it sounded like the  Safety and Welfare Committee and the city council were willing to take into account their constituents' worries about being made to choose between their homes and their dogs.   However, Alderman Bob Stocks, who had prior been sympathetic to his constituents' concerns about the breed-specific law (BSL) and had made a motion to remove the breed-specific portion of the ordinance proposal, was not in attendance at the Thursday, August 15th meeting.   Apparently the tide has turned since Chairmen Fred Smith, Alderman Mark Kuehl and Alderman Steve Zgonc voted to send the proposal on to be considered by the full council.

In fact, Watertown aldermen were downright cold in the face of one constituent's plea.  Watertown resident Laurie Hoffmann, who spoke at Thursday's meeting, has three dogs, one of which is a "pit bull" mix.   She expressed concern over one of the ordinance proposal's provisions which would limit an individual or family that owns a "pit bull" or "dog deemed vicious" to owning only one other dog.   Hoffmann asked,
"What will happen if this is passed? Will we have to move out of the city or kill our dogs?" Hoffmann asked the committee. "So you're saying that the three dogs that we own, that are now registered in the city legally, would not be allowed?"
[Chairmen Fred] Smith told her that in its current form that would be correct.   Brr!   That's just frosty, cold, and downright unfeeling.  
Even colder is the fact that what they are calling a "grandfather clause" is really just a "grace" period to allow prior registered "pit bull" owners time to re-home their dogs, kill their dogs, or move out of the city.   And since responsible dog owners like Laurie Hoffmann have registered their dogs, "authorities" will know just where to find those dogs when they send out the Gestapo, er, I'm sorry, the doggy police, to enforce their illegal and unconstitutional "pit bull" ban.   (But then  Gestapo-type activity in the Milwaukee area seems to be a recurring theme of late.)   Makes one wonder why anyone would ever bother to register or license their dogs now doesn't it?   Perhaps that's why license compliance rates plummet when municipalities pass punitive legislation like BSL and mandatory spay/neuter laws.  

And you know, I could respect the council if I truly believed they thought they were making their city safer by passing a breed ban.   I would still think they were misguided, but I could at least respect that they cared about their constituents.   But there is ample evidence that breed-specific legislation doesn't work.   In the last week alone, Hamilton, Ontario, who has had a "pit bull" ban in the province since 2005, and Winnipeg, Manitoba, who has had a "pit bull" ban since 1990, have both illustrated their bans aren't working, meaning they haven't effectively reduced dog bites.   Why?   Because irresponsible owners switch breeds, which indicates what?   That it's the owner, not the breed.  
Think BSL is only impotent legislation in Canada?   On the contrary.   BSL has also proven ineffective, unenforceable, and unconstitutional in the U.S. resulting in its repeal in many areas.   For instance, Welsh, Louisiana repealed its 11-year-old "pit bull" ban just this month in an effort to end breed discrimination; Annapolis, Missouri repealed their breed ban in July 2013 when they saw it was unfairly targeting responsible owners; and Osawatomie, Kansas, repealed their two-decades long breed ban on June 5, 2013, after one of their residents proved that a dog the city had deemed a "pit bull" was actually a Boxer mix (which is not an uncommon occurrence, just ask Denver).  
Likewise, Toledo, Ohios BSL was ruled unconstitutional in January 2010 and it was determined that Toledo's Animal Control Officer could not properly identify what was a "pit bull" based on their own ordinance.   The Ohio legislature then went on to remove the archaic dangerous dog designation for "pit bulls" in 2012.   Also, on March 9, 2011, Midwest City, Oklahoma was ordered to stop enforcing their "pit bull" ban as it was ruled unconstitutional.   Rockville Centre, New York also repealed their BSL July 23, 2010, citing its unconstitutionality, and Topeka, Kansas repealed their BSL September 28, 2010, citing its ineffectiveness.
Still, given all the ample evidence that breed-specific legislation in any form is ineffective and unconstitutional, some municipalities inexplicably push for it anyway.   But, that's what happens when radical animal rightists who don't care about domestic animals, and certainly don't care about people, get ahold of a city council and inculcate them.   And yes, I speak the truth Watertown residents.   It is well known that breed-specific legislation is the brain child of radical animal rights groups who believe the domestication of animals is cruelty and therefore want to end the domestication of animals by any means necessary.   In the case of BSL, that means they want to kill all your "pit bulls," and since so many medium- or large-breed dogs, their mixes, and lookalikes get mislabeled as "pit bulls," that equals a lot of potentially dead dogs.  
Don't believe me?   Ask Denver.   Because as I said before, this is what Denver calls "success":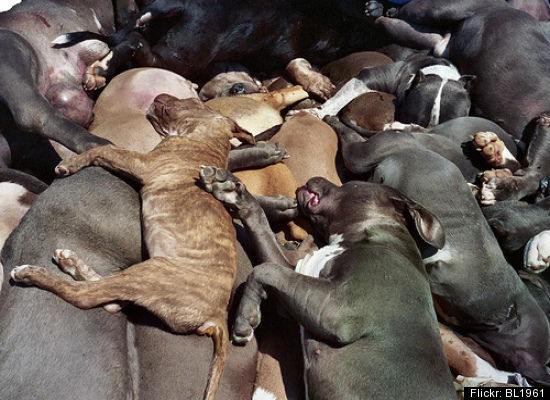 When faced with a council that is so adamantly opposed to compromise and refuses to hear out its constituents, the end result has usually been litigation, voting out all incumbents, or both.   I would encourage Watertown residents to band together and fight your elected officials because they are elected to represent you, not bully you.   They certainly weren't elected to bully your bully breed either, and since I suspect that your council is entertaining outside radical influences, you must question them on just who they've been getting their information from and why they're listening to those radicals over the common sense of their own constituents.  

[google-map-v3 width="350″ height="350″ zoom="12″ maptype="roadmap" mapalign="center" directionhint="false" language="default" poweredby="false" maptypecontrol="true" pancontrol="true" zoomcontrol="true" scalecontrol="true" streetviewcontrol="true" scrollwheelcontrol="false" draggable="true" tiltfourtyfive="false" addmarkermashupbubble="false" addmarkermashupbubble="false" addmarkerlist="Watertown, Wisconsin{}4-default.png{}Watertown, Wisconsin Inflexible on Pit Bull Ban; Resident Gets Frosty Reception" bubbleautopan="true" showbike="false" showtraffic="false" showpanoramio="false"]