Like Denver and Toledo, it looks like Swanton, Ohio can't tell what a "pit bull" is as defined by their own ordinance either.   Tim Bork of Swanton was recently cited by Fulton County Dog Warden Brian Bannister for having a "pit bull-type dog," a dog identified by Bannister as a Fila Brasileiro mix, which is a type of mastiff, though Bannister considers it to be a type of "pit bull."  
Yet the Fila Brasileiro breed is not listed as a "pit bull" "breed" by Swanton's ordinance, which is why Bork did not register his dog, Bailey. (And as we so often say here, "pit bull" is not a breed because as Swanton's own dog warden illustrates, the term "pit bull" is subjective and could refer to countless actual dog breeds, their mixes, and lookalikes.)   As a result, Bork was charged with a third-degree misdemeanor, which could amount to a $500 fine and 60 days in jail.   Bork now has a pretrial conference set for 9 a.m., Oct. 9., after a continuance was granted by a judge in Fulton County Eastern District Court.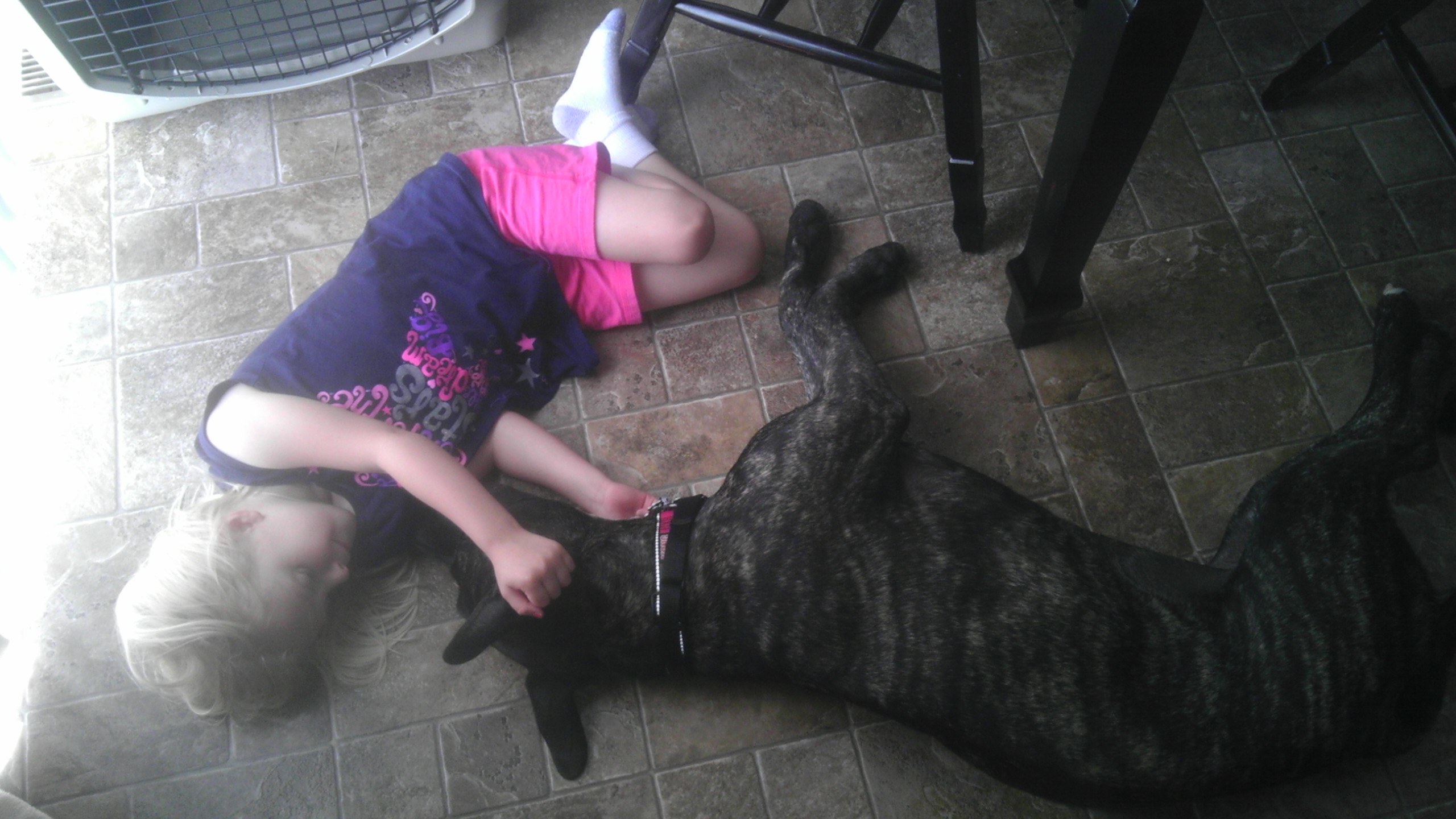 [Bailey with her kid Kayla]
So mastiffs are pit bulls now too?   Mastiffs which have 50-60 pounds on American Pit Bull Terriers are now considered pit bulls, and Swanton sees no problem with this?   Really?   So do you see what we mean when we say that countless medium- and even large-breed dogs can be called pit bulls, which is why statistics on pit bulls are wildly skewed and therefore worthless?
 And, as I wrote in a prior post, according to The Toledo Blade,
A DNA test commissioned by The Blade of Bailey shows she is actually a mix of American bulldog, Rottweiler, American Staffordshire terrier, black and tan coonhound, Coton de Tulear, bull terrier, Neapolitan mastiff, and miniature pinscher. She is less than 50 percent pit bull, which is the standard that past Ohio court cases have used in determining whether a dog is a pit bull-type.
No one, including the owner and the dog warden, knew what breed, or breeds, Bailey actually was.   So how in the world can Swanton cite Bork when the dog warden couldn't even properly identify Bailey's breeds?  
The Bailey incident should be a wake-up call to Swanton that their breed-specific law (BSL) isn't working, just like all BSL doesn't work.   Swanton should opt instead for a dangerous dog (owner) law equally applied across the board for all dog breeds and all dog owners.

See also:
[google-map-v3 width="350″ height="350″ zoom="9″ maptype="roadmap" mapalign="center" directionhint="false" language="default" poweredby="false" maptypecontrol="true" pancontrol="true" zoomcontrol="true" scalecontrol="true" streetviewcontrol="true" scrollwheelcontrol="false" draggable="true" tiltfourtyfive="false" addmarkermashupbubble="false" addmarkermashupbubble="false" addmarkerlist="Swanton, Ohio{}4-default.png{}Swanton, Ohio Doesnt Know What a Pit Bull is Either, Just like Denver and Toledo" bubbleautopan="true" showbike="false" showtraffic="false" showpanoramio="false"]